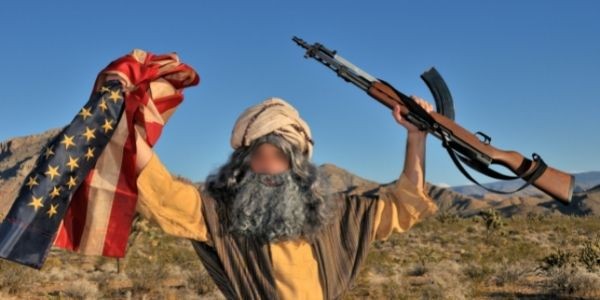 Hamas Congratulates Taliban on Biden Defeat
Our pro-Israel voice needs to be loud and strong right now. YOU can make a difference in defending the Holy Land against Biden's dark pro-Iranian plans. Please, waste no time. Call upon the United States Senate NOW. Send a fax and sign our petition demanding the Senate Stand with Israel and STOP Biden's insane Iran Deal, then read on for the news. – Mat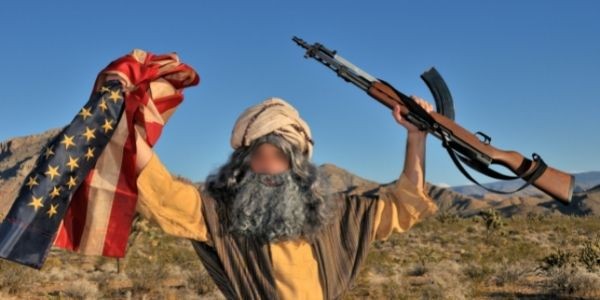 I don't have to tell you, but Israel's very existence is threatened by Iran's nuclear-tipped ambitions . . . And by the militant theocratic regime's wholly owned terror armies which surround the Jewish state from inside Lebanon, Syria and Gaza.
Israel-hating Hamas in Gaza CONGRATULATED the Taliban "for defeating the American occupation in its land." And Iran is now exporting oil to Afghanistan—giving Tehran's radical Islamic regime desperately needed dollars for terror.
The enemies of Israel are in Washington, too, including people like Rep. Rashida Tlaib—an apologist for Palestinian terrorists. Tlaib recently called two Palestinian jihadis who attacked Israel a "loving daughter & successful PhD student" and a "loving son."
Don't let Joe Biden & his band of Israel haters forfeit the Holy Land to Iran! DEMAND the Senate Stand with Israel & Defeat the Iran Deal!
The epic disaster Biden engineered in Afghanistan is an utter humiliation for America. Former British Prime Minister Tony Blair slammed it as "imbecilic." Instead of projecting strength in the troop drawdown and departure, Biden ran. It was troops first and trapped Americans a distant second . . . if that.
Biden showcased cowardice and put our standing as a global superpower into free-fall. China has stepped into the gap, quickly recognizing the Taliban and establishing ties.
Worse, because of Biden, radical Islam now has a base from which to export terror. And, as commentator Mark Levin said, if America doesn't come to the rescue of every American left behind in Taliban-run Afghanistan—which it has not—terrorists everywhere will consider it "open season on Americans."
That's where we are NOW!
Join me in demanding senators vigorously DEFEND ISRAEL and DEFEAT BIDEN'S IRAN DEAL! Sign our petition and send a fax now!
As I said above, our pro-Israel voice needs to be loud and strong right now. Our staff in Washington, DC are facing extreme resistance from the Biden administration. Your much-needed gift will make a real and immediate difference. You'll help CIDI fight for Israel as it faces Iran's terror armies—emboldened and inspired by Biden's treasonous idiocy. Please, give generously today.

Thank you for your friendship and your heart for Israel.
"I will bless those who bless you, And I will curse him who curses you; And in you all the families of the earth shall be blessed" (Gen. 12:3).
Mat Staver
Chairman
Christians in Defense of Israel
P.S. Your generosity enables Christians in Defense of Israel to make a pro-Israel difference in the halls of power in Washington, D.C., the Middle East and throughout the world. Please stand with us to bless Israel by giving generously.
P.P.S. Joe Biden is putting Israel at risk in the world's most dangerous neighborhood. And he continues to add anti-Israel bureaucrats to his administration, which is a good reason you and I must speak up immediately. Please send your faxes TODAY!
Prefer a petition over a fax? Select here.