The Defender® Newsletter Archive


2019 SUMMER - "AMAZING AND TRANSFORMATIONAL TIME IN ISRAEL"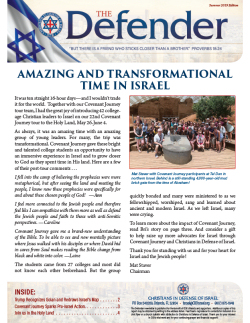 It was ten straight 16-hour days—and I wouldn't trade it for the world. Together with our Covenant Journey tour team, I had the great joy of introducing 42 college-age Christian leaders to Israel on our 22nd Covenant Journey tour to the Holy Land, May 26-June 4. As always, it was an amazing time with an amazing group of young leaders. For many, the trip was transformational.
Covenant Journey gave these bright and talented college students an opportunity to have an immersive experience in Israel and to grow closer to God as they spent time in His land. Here are a few of their comments... (read more)
2019 SPRING - "TIME TO STAND IN PRAYER FOR ISRAEL"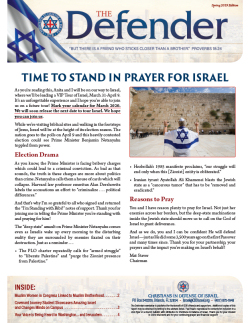 As you're reading this, Anita and I will be on our way to Israel, where we'll be leading a VIP Tour of Israel, March 31-April 9. It's an unforgettable experience and I hope you're able to join us on a future tour! Mark your calendar for March 2020. We will soon release the next date to tour Israel. We hope you can join us. While we're visiting biblical sites and walking in the footsteps of Jesus, Israel will be at the height of its election season.
The nation goes to the polls on April 9 and this heavily contested election could see Prime Minister Benjamin Netanyahu toppled from power... (
read more
)
2018 WINTER - "2018: AMAZING YEAR FOR ISRAEL!"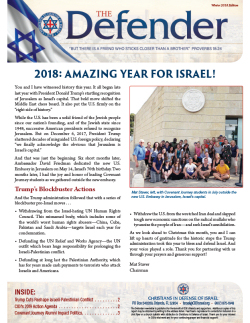 You and I have witnessed history this year. It all began late last year with President Donald Trump's startling recognition of Jerusalem as Israel's capital. That bold move shifted the Middle East chess board. It also put the U.S. firmly on the "right side of history." While the U.S. has been a solid friend of the Jewish people since our nation's founding, and of the Jewish state since 1948, successive American presidents refused to recognize Jerusalem.

On December 6, 2017, President Trump shattered decades of misguided U.S. foreign policy, declaring "we finally acknowledge the obvious: that Jerusalem is Israel's capital"... (read more)
2018 SUMMER - "ISRAEL AT 70 - DRAMATIC CHANGE"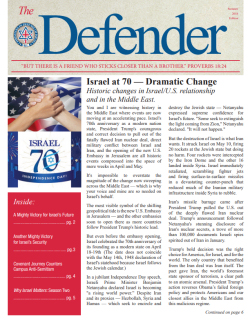 You and I are witnessing history in the Middle East where events are now moving at an accelerating pace. Israel's 70th anniversary as a modern nation state, President Trump's courageous and correct decision to pull out of the fatally flawed Iran nuclear deal, direct military conflict between Israel and Iran, and the opening of the new U.S. Embassy in Jerusalem are all historic events compressed into the space of mere weeks in April and May.
It's impossible to overstate the magnitude of the change now sweeping across the Middle East — which is why our voices are so needed on Israel's behalf... (read more)