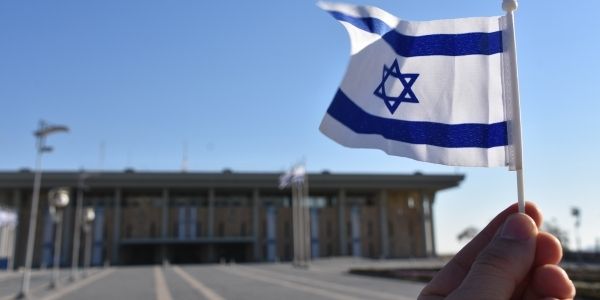 Netanyahu Pulls No Punches with Biden
Prime Minister Benjamin Netanyahu is pulling no punches with Joe Biden. Netanyahu will do whatever it takes to protect the Israeli people—with or without Joe Biden's help.
Read on to learn the latest developments in the Holy Land. But first, fax the Senate and DEMAND they shut down Joe Biden's awful Iran Deal! —Mat
Tell the Senate NO NEW IRAN DEAL! Simply select here or the button below and keep reading to catch up on Biden's deal.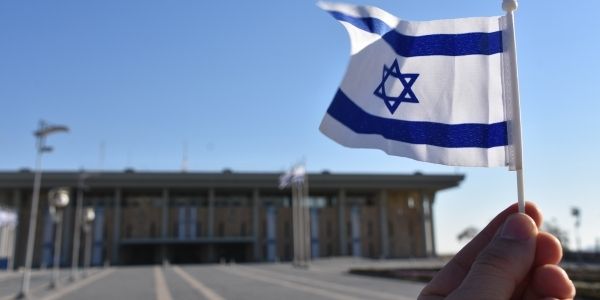 "I'm not leaving the fate of the Jewish state in anyone else's hands, not even our best friends," Israel's Prime Minister Benjamin Netanyahu declared last month.
"I am keeping and developing options to prevent an Iranian nuclear weapon at any cost. That's what we've done, and that's what we will continue to do."
And Joe Biden's foolhardy effort to rejoin the Iran nuclear deal may force Israel to act. With a stroke of a pen, this agreement would:
Eliminate Trump-imposed economic sanctions that have brought Iran's economy to its knees.
Give the radical Islamic regime access to Western markets and cash, fueling the Iranian terror machine.
Establish a date certain for Iran to gain its own stockpile of nuclear weapons—and the means to destroy Israel and terrorize the world.
With the stakes so high and the Iranian threat escalating, you and I must speak out now! Joe Biden is putting Israel's security and its very existence at risk.
That's why I'm asking you today to STOP BIDEN'S FOLLY—NO NEW IRAN NUCLEAR DEAL! Fax the Senate NOW by selecting here or the button below.

Join me and other friends of Israel in urging key Senate leaders to block Biden from laying the groundwork for war in the Middle East. And as you do, I ask for your generous gift today.
Stand with Christians in Defense of Israel as we speak out for the Jewish state on Capitol Hill and across America. Your much-needed support helps us fight for Israel at a time when the Jewish state desperately needs our support.

Joe Biden's foolish and weak Iran policy is making all this necessary.
To Biden and his team—which includes Obama-era officials who helped draft and negotiate the disastrous 2015 nuclear pact—it makes no difference that Iran is:
A fierce enemy that outrageously calls America the "Great Satan" and Israel the "Little Satan."
The world's foremost terror state.
A "messianic apocalyptic cult"—in P.M. Netanyahu's words—bent on destroying Israel and achieving global Islamic domination.
Biden's team reportedly talked with Iran about renewing the deal even before he took office. But Biden took four weeks after being sworn in to call Israel's prime minister. The talk was friendly but frank.
Netanyahu pulled no punches with Biden...
However misguided Biden and his team are, Israel understands the threat all too well. And it is fully willing and able to act.
"I told him, with or without an agreement, my obligation as the prime minister of Israel, as the prime minister of the Jewish state, is to prevent a recurrence of the terrible things that have been done to our people," Netanyahu told Israel's Channel 13.
"There is a regime whose flagship goal is to destroy us. I will do everything I can, everything in my power, to prevent it from attaining nuclear weapons," the prime minister said.
Netanyahu sent the exact same message to Tehran last month: "We will do whatever is necessary, so you do not arm yourselves with nuclear weapons."
Israel is drafting plans and preparing to do just that even as I write. The Israel Defense Forces (IDF) chief of staff has reportedly ordered planners to develop three proposals to defeat Iran's nuclear threat. One option is a devastating airstrike to eliminate Iran's hardened, underground nuclear sites.
Please, take a moment RIGHT NOW to fax the Senate. There is no time to waste. Tell them NO NEW IRAN DEAL!

Please also consider donating to support Christians in Defense of Israel's vital mission. Your generosity equips Christians in Defense of Israel to do even more to safeguard and protect the Jewish state. When you give to CIDI:
You bless and defend Israel.
You help recruit and mobilize more pro-Israel Christian Americans.
You help us fight back against Biden's wrongheaded, anti-Israel moves and press for pro-Israel legislation in Congress.
Please make your best possible gift TODAY!

Thank you for your love for Israel, your prayers and kind support!
Sincerely,
Mat Staver
Chairman
Christians in Defense of Israel
P.S. Your generosity enables Christians in Defense of Israel to make a pro-Israel difference in the halls of power in Washington, D.C., the Middle East and throughout the world. Please stand with us to bless Israel by giving generously.
Make a gift to defend Israel today! Select here.
P.P.S. Joe Biden is putting Israel at risk in the world's most dangerous neighborhood. And he continues to add anti-Israel bureaucrats to his administration, which is why you and I must speak out immediately. Please, send your faxes TODAY!
Prefer a petition over a fax? Select here.