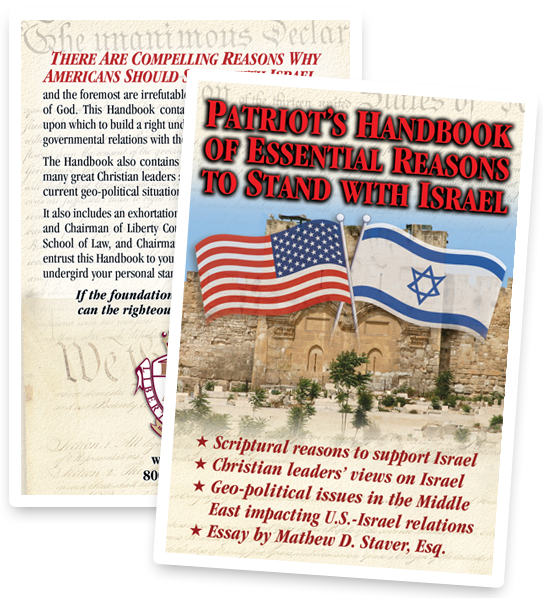 Essential Reasons to Stand With Israel
King David captured God's timeless admonition to "Pray for the peace of Jerusalem: May they prosper who love you" in Psalm 122. Israel has a special place in the Bible and has played a central role in Middle Eastern and world affairs throughout history.
Yet today, with increasing pressure coming from anti-Semitic and Jihadist forces on all sides, Israel has never been in greater need of friends!
Thank you for being a faithful supporter of Israel through Christians in Defense of Israel. Without you, a generous supporter of this God-given mission, our impactful work would go undone. In appreciation for your ongoing commitment, we would like to offer you a free digital copy of the Patriot's Handbook of Essential Reasons to Stand with Israel. Please click here for your free download.

President Trump has done more for Judeo-Christian values worldwide – and especially in Israel - than any president.
Take heart – call upon God and He will answer!
Election lawsuits continue to be filed in disputed states. Shocking evidence – including newly-released evidence that Iran and China may have had a hand in tampering with our election - has been presented in court rooms and before state legislatures.
It now seems certain that the 2020 general election was plagued with massive fraud designed to rob the American people of their sacred right to cast their vote!
The potential destruction of President Trump's pro-Israel policies is sad enough to contemplate. But being witness to the astounding level of fraud being foisted on the American people is truly heartbreaking. If this election fraud somehow succeeds, both Americans and Israelis alike will suffer greatly.
I believe the dream I had about President Trump has remained with me because he needs our heartfelt prayers and support RIGHT NOW. So does America and Israel.
Sign our urgent prayer letter to the President — Select here or the button below

I've written a letter of encouragement, support and prayer for the people's president. This letter will be presented to President Trump soon and I hope to see YOUR name on it as an endorser. Please also commit to praying daily for our president and our country. We know the Lord hears our prayers and we know that He can heal our land.
Christians in Defense of Israel works hard in the halls of power in Washington, DC, the Middle East and throughout the nation to defend the nation of Israel. I encourage you to make a tax-deductible year-end donation to Christians in Defense of Israel. Your generosity empowers CIDI to keep our staff on Capitol Hill aggressively defending Israel and undertaking many other vital pro-Israel activities and outreaches.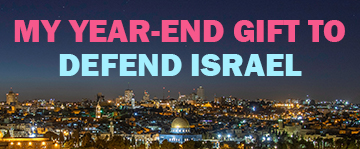 God bless you,
Mat Staver
Chairman



P.S. Don't forget to get your free download of the Patriot's Handbook of Essential Reasons to Stand with Israel.