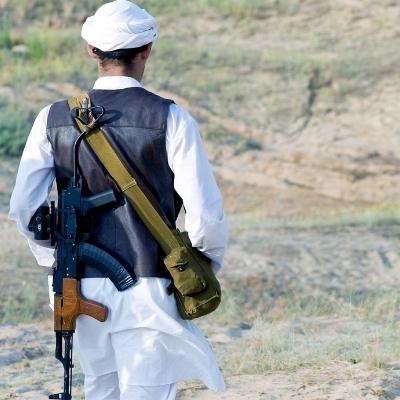 FBI's Most Wanted Now Running Afghanistan
A member of the FBI's Most Wanted list has a new title—interior minister for the newly formed "Islamic Emirate of Afghanistan" terror regime. His former title and place of service was "Detainee, Guantanamo Bay military prison, Cuba."
And Joe Biden plans to release all remaining Guantanamo prisoners, freeing them to join the butchers terrorizing the now helpless Afghan people, and all of the Middle East.
DON'T LET JOE BIDEN CLOSE GUANTANAMO BAY! Select here or the button below to send your fax now.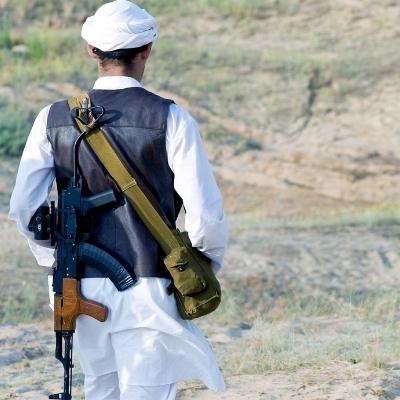 Sirajuddin Haqqani runs the "Haqqani network," a State Department- designated "foreign terrorist organization," formed by Sirajuddin's father who has been terrorizing the world for decades.
Sirajuddin himself has been wanted by the FBI since 2008 for his involvement in the deadly attack on a Kabul, Afghanistan, hotel that killed six, including one American. But his terrorist activities don't end there. Sirajuddin Haqqani also "coordinated and participated in cross-border attacks against the United States coalition forces in Afghanistan," according to FBI files.
Biden's insane foreign policy has all but handed Afghanistan on a silver platter to the very butchers the Afghan people have been desperately trying to free themselves of for decades.
And now "Interior Minister" Haqqani is free to terrorize the Afghan people to no end … without those bothersome Americans to impede his horrific reign.
Having effectively abandoned Afghanistan to the Taliban and having given our military equipment to Iran via the Taliban, Joe Biden now wants to free the terrorists being held at Guantanamo Bay.
And just like Khairullah Khairkhwa—released from Guantanamo Bay by Obama and Biden in 2014 and now helping the Taliban run Kabul—those terrorists WILL use their newfound freedom to again terrorize the world.
In the eight short months Biden has occupied the Oval Office, he has systematically dismantled every security measure that kept the Middle East peaceful and Israel safe for the prior four years.
Now Biden wants to close the Guantanamo Bay military prison and release all remaining prisoners held there.
The remaining Guantanamo prisoners are among the "worst of the worst" terrorists. Their unrepentant attitudes on terror caused most of these detainees to be labeled "forever prisoners," too dangerous to ever be released.
Biden's planned release of the rest of the Guantanamo Bay detainees poses a clear and present danger to Israel. Biden's ineptitude and insane abandonment of President Trump's Middle East policies is flooding the Holy Land with well-trained, well-armed and bloodthirsty militants intent on destroying Israel and America.
But CONGRESS CAN STOP BIDEN ... if we press them.
Congress can put a stop to Biden's Gitmo closure plans, just like it did when Biden and Obama tried this same insane plan in 2010. At that time, Democrats proposed and passed a measure to prohibit the Obama-Biden administration from spending any money to transfer detainees to the United States. The same type of action can be used today to stop Biden from picking up where his former boss left off.
We must now put as much pressure as possible on Congress to take a firm stand for national and international security.
Please, take a moment right now to fax Congress. Tell them, "Don't Let Joe Close Gitmo!" Select here or the button below.

The Middle East is on fire—we cannot let Biden add more gasoline!
The fight for Israel is growing more intense, and our work in Washington, D.C., and across the globe is becoming much more important. Please help us bless Israel by supporting CIDI's important work. Make your gift to defend Israel today.

Thank you for your love for Israel, prayers and thoughtful support!
Mat Staver, Chairman
Christians in Defense of Israel


P.S. Your generosity enables Christians in Defense of Israel to make a pro-Israel difference in the halls of power in Washington, D.C., the Middle East and throughout the world. Please stand with us to bless Israel by giving generously.
Make a gift to defend Israel! Select here.
P.P.S. Joe Biden is putting Israel and the entire world at risk by freeing Guantanamo Bay jihadis. We must STOP the Closing of Guantanamo Bay! Please, send your faxes TODAY!
Prefer a petition over a fax? Select here.


---
Sources:
"Biden Quietly Moves to Start Closing Guantánamo ahead of 20th Anniversary of 9/11." n.d. NBC News. Accessed August 24, 2021. nbcnews.com/politics/national-security/biden-quietly-moves-start-closing-guant-namo-ahead-20th-anniversary-n1269937.
"Khairullah Khairkhwa." 2021. Wikipedia. August 18, 2021. en.wikipedia.org/wiki/Khairullah_Khairkhwa.‌
"Sirajuddin Haqqani, Afghanistan Cabinet Member, Wanted by FBI, $10 Million Reward Offered." Newsweek. September 7, 2021. newsweek.com/sirajuddin-haqqani-afghanistan-cabinet-member-wanted-fbi-10-million-reward-offered-1626785.
"Sirajuddin Haqqani." 2021. Wikipedia. September 8, 2021. en.wikipedia.org/wiki/Sirajuddin_Haqqani.