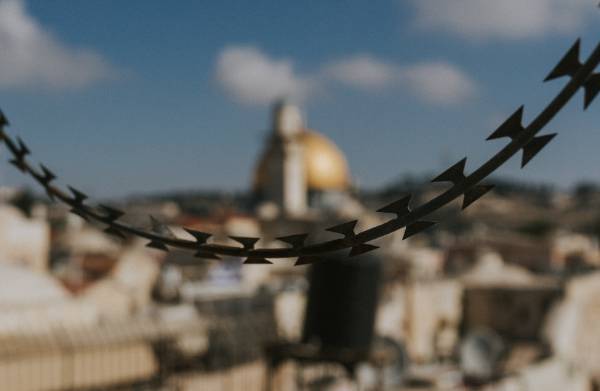 Will the Holy Land Be Closed?
Israelis are asking: Who would be crazy enough to inject aborted fetal tissue and heavy metals into their body over a virus that has a 99% recovery rate? On a related topic, the Holy Land will be closed to many pilgrims unless the Israeli leaders hear from you and many others like you. Read on to learn the latest developments in Israel's COVID reaction. -Mat
Don't let Israel shut down Christian pilgrimages - select here or the button below.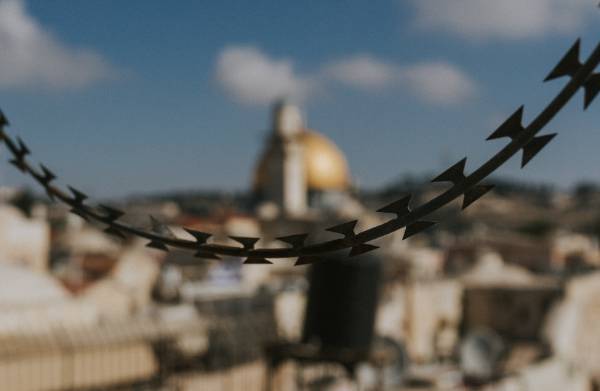 The Israel Democracy Institute published a survey just over a month ago revealing that more than half of all Israelis are unwilling to be among the first to take the COVID vaccine. Other studies show that between 30-50% of Israelis plan to refuse to take the COVID vaccine at all.
One Israel-based Messianic Rabbi summed it up well in a recent social media post, begging the question: Who would be crazy enough to inject aborted fetal tissue and heavy metals into their body over a virus that has a 99% recovery rate?
Who, indeed? But pro-vax forces within the Israeli government are working overtime to ensure (possibly by force) full compliance. The Israeli government has announced that ONLY recipients of two COVID vaccine shots will be allowed to visit Holy sites, cultural centers and any area where people congregate.
This draconian measure applies to Israelis, who are currently prevented from traveling farther than six tenths of a mile from their own homes. And as of late December, international travelers must prove they have received both doses of a COVID vaccine to receive a "Green Passport." Only then will travelers be allowed to enter the country and visit Holy sites.
Clearly, this is a serious problem for Christians who refuse to inject themselves with foreign DNA.
The Israeli leaders must hear from you now. This policy would be disastrous. Sign the petition that we will circulate to Israeli leaders.
Aside from containing toxic heavy metals and materials derived from the cells of murdered babies, vaccines can be dangerous… especially if they have not been fully tested. Last week, two men in Israel died within a couple of hours of receiving the vaccine.
Notably, the last time a developed country rushed a vaccine into widespread use, people were seriously harmed and many died.
In 1955, the United States rushed a Polio vaccine to market in "record time." But due to rushed timing and limited safety testing, the vaccine actually GAVE Polio to 40,000 children. Many of those children remained paralyzed for the rest of their lives. And, tragically, a number of those children died as a result of receiving that dangerous shot.
But that wasn't the only way the rushed Polio vaccine injured patients. The rushed testing also failed to identify that up to 30% of the Polio vaccines had been infected with Simian Virus 40 (SV40). For the next seven years, millions of Americans – who had never been informed that they were being injected with the DNA of another species - were infected with a virus previously only known in monkeys.
Several studies over the years have linked this "monkey virus" component of the Polio vaccine with several cancers. According to research published at the U.S. National Institute of Health, SV40 DNA cells have been found in a range of tumors, including childhood brain tumors.
And now, we are receiving report after report worldwide of serious illnesses and deaths caused by rushed COVID vaccines.
Don't let Israel shut down Christian tourism - select here or the button below.
According to the U.S. Food and Drug Administration (FDA), COVID vaccines' side effects can include heart attack, stroke, encephalitis (swelling of the brain), Bell's Palsy (a stroke-like condition in which half of the face is paralyzed), acute swelling of the muscles surrounding the heart, seizures, anaphylactic shock, encephalomyelitis (life threatening swelling of the brain and spinal cord) and transverse myelitis (which causes paralysis). "Death" is also listed as a side effect.
And, according to a report published by the New York Times in November 2020, Pfizer only tested their vaccine on EIGHT people out of a miniscule 170-person sample group!
This is NOT medicine. This is NOT healthcare. This is CONTROL.
I am deeply saddened that Israel would now be pushing such a dangerous drug upon its citizens and the world. And I am further saddened by the recent deaths that were reported last week after the decedents took the vaccine.
And these shutdown measures will not only harm Israelis, but all of Christendom, as many Christians refuse to inject aborted baby cells or mRNA into their bodies. Israel's new "Green Passport" will effectively shut many Christians out of the Holy Land for the foreseeable future.
Thankfully, we have seen that Prime Minister Benjamin Netanyahu listens to CIDI supporters. That is why I am asking you to sign our special letter to the Prime Minister today, asking him to STOP mandatory vaccinations for Israel! Simply select here.
Please be in prayer for the Holy Land during this trying time. The lockdowns have a staggering negative effect on the lives and livelihoods of Israelis. And religious pilgrimages to the Holy Land are effectively shut off to anyone who has not received two doses of the COVID vaccine.
All of Christendom is adversely impacted by Israeli officials' ill-advised mass vaccination policy. Please pray for reason to return to the Holy Land!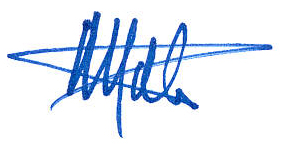 Mat Staver
Chairman


P.S. Christians in Defense of Israel works hard in the halls of power in Washington, DC, the Middle East and throughout the world to defend the nation of Israel. Please be a part of our blessing to Israel today by giving generously.