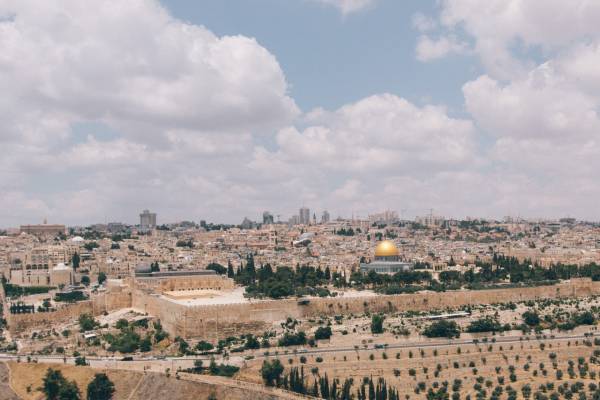 Israeli Policy Will Hinder Christian Pilgrimages
Israel has proposed measures that, if implemented, will effectively stop many Christians from visiting the Holy Land. As someone who leads groups to Israel, I have heard from many people that if Israel implements its proposed policy, they will not travel to the Holy Land. Read on to learn what YOU can do to help. -Mat
Don't let Israel shut down Christian pilgrimages - select here or the button below.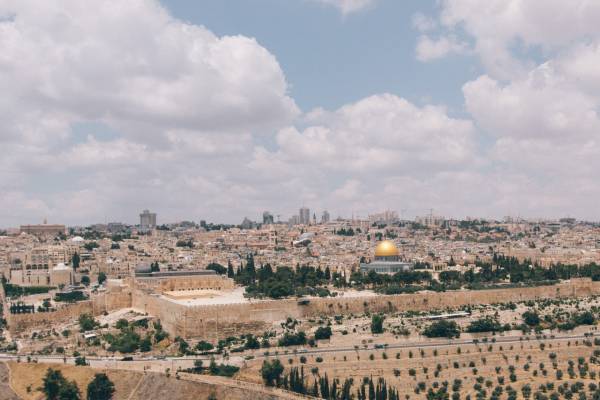 This year has been a troubling year, to say the least. After the worldwide pandemic, economic shutdowns and contested elections, now comes a serious, ongoing threat to freedom and travel...
An untested vaccine that has many Christians saying, "No Way!"
While many of my Israeli friends object to the vaccine, I regret to say that many of Israel's leaders do not understand the opposition so many Americans have against the ultra-rushed COVID vaccines.
In the heated rush to ameliorate COVID fears, Israel is considering following the Chinese Communist Party's vaccine policies. The proposed Israeli policy will require anyone, including international travelers and Christians on religious pilgrimages, to have proof of a vaccine.
Travelers who have not been vaccinated will not be admitted to the country and/or will have to self-quarantine for 14-days.
This is a serious problem for the over 1 million American travelers who visit Israel each year. Studies show that most tourists in Israel are Christians visiting holy sites.
Don't let Israel shut down Christian tourism - select here or the button below.

Consider a recent article from Arutz Cheva in Israel reporting measures recommended by Sheba Medical Center Chief Medical Officer Dr. Eyal Zimlichman to "maneuver" the population into vaccinating as a way of regaining freedom of movement.
In commenting on the recommended "measures," journalist Mike Cernovich wrote: "Government won't force you to take [the] vaccine. Amazon will. Airlines will. Banks will. You won't be able to buy, sell, or trade without the vaccine." This sounds like something right out of the Book of Revelation – not being able to buy or sell.
If you think that's overstated, listen again to Dr. Zimlichman: "Whoever is vaccinated will automatically receive 'green status'. Therefore, you may vaccinate, and receive Green Status to go freely in all the green zones: They'll open for you cultural events, they'll open to you the shopping malls, hotels, and restaurants."
This is the playbook of Communist China. If Israel implements this policy, it will prevent many people from visiting the Holy Land. While I understand that Israel is sovereign, it is also the birthplace of Christianity.
The Israeli leaders must hear from you now. This policy would be disastrous. Sign the petition that we will circulate to Israeli leaders.
In America, there is growing concern about the safety and efficacy of the vaccines which have been sped to market in neck breaking time. Historically, vaccine safety protocols mean the products are tested for up to 10 years before release to the public. In contrast, the COVID-19 vaccine has been developed in under one year. It may be years before the full side effects of this new vaccine are known, raising serious health concerns.
In addition to safety concerns, many Christians refuse to take vaccines for religious reasons. Some of the new COVID vaccines were developed using the cells of aborted babies, and some contain aborted fetal cells in the final vaccine product. Aside from new science showing the potential dangers of injecting foreign DNA into one's body, the thought of injecting the DNA of a murdered child into one's body is a horror many refuse to consider.
For years, Christians in Defense of Israel has taken Christian college students to tour Israel under our Covenant Journey program. In the 30 tours we have led, I have personally witnessed miraculous physical, spiritual, and emotional healings. I have witnessed a new generation come to love Israel – a generation which will fight for Israel for all the generations to come.
Covenant Journey alumni return to America with a passion for God and for Israel that is carried over into everything they do. Many of our young college-age alumni now work in Congress, the White House and in virtually every profession around the world. One of our alumni teaches Israeli fighter pilots how to fly the American-made F-35 fighter jets!
Certainly, Israel's health policies are Israel's business. However, these vaccine travel bans affect all of Christendom. It is not simply our Covenant Journey college students and church groups who will miss the opportunity to visit Israel. Christians around the world, whose religious beliefs prevent them from taking a vaccine, will be effectively banned from religious pilgrimages.
After surviving a year like 2020, the world needs MORE pilgrimages to the Holy Land, not less!
Don't let Israel shut down Christian tourism - select here or the button below.
As you know, CIDI and Covenant Journey are held in high esteem by Israeli Prime Minister Benjamin Netanyahu. Your letters and petitions to the Israeli leader have brought significant encouragement, and even policy changes in the past. And, of course, Prime Minister Netanyahu knows the role CIDI played in supporting the Abraham Accords, which are rapidly bringing peace to the Middle East.
My point is that I believe Prime Minister Netanyahu WILL listen! I hope that you will join me in signing this personal and prayerful letter to the Prime Minister, asking that Israel please drop mandatory vaccinations for travelers.
Don't let Israel shut down Christian tourism - select here.
Finally, I want to thank you for your support in 2020. It has been a remarkable year, and I am proud to have stood with you on the front lines defending Israel.
There are just a few hours left to make a tax deductible, year-end donation to support our work here at Christians in Defense of Israel. Please prayerfully make your best possible contribution TODAY!

The Bible tells us that those who bless Israel will be blessed. May the Lord God bless you richly in 2021.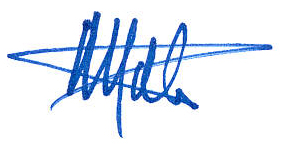 Mat Staver
Chairman


P.S. Christians in Defense of Israel works hard in the halls of power in Washington, DC, the Middle East and throughout the nation to defend the nation of Israel. Please be a part of our blessing to Israel today by giving generously.