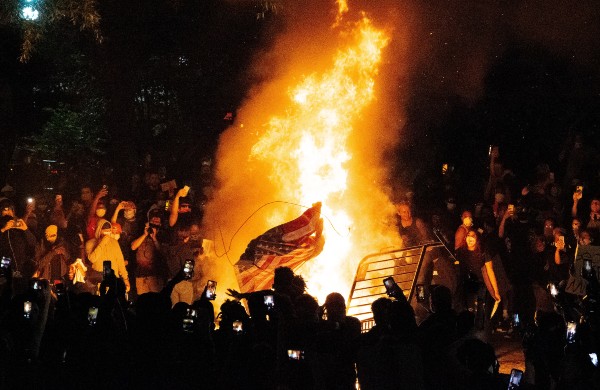 Who Is Behind the Burning of America
American cities are burning at the hands of an avowed Marxist organization fueled by anti-Semitic hate. Read on to find out who is funding America's destruction and what we can do about it. – Mat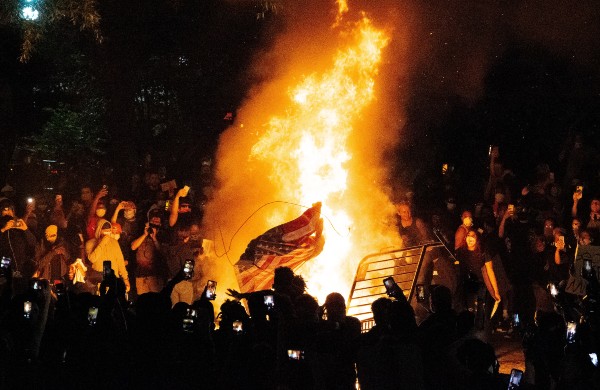 As I wrote to you last week, despite BLM's fiery calls for wrenching and violent social change, dozens of American corporations have given or pledged now hundreds of millions of dollars to the Black Lives Matter Global Network Foundation—the main BLM organization whose co-founders Patrisse Cullors and Alicia Garza proudly claim to be "trained Marxists."
But there is much, much more to BLM than meets the eye, and it has to do with one of the deadliest domestic terror organizations in U.S. history — the Weather Underground.
The connections between the Weather Underground and BLM are deeply disturbing, and there are likely far more than the ones we here at CIDI have discovered. As you read on, I think you will be as convinced as me that Congress and the Department of Justice need to immediately investigate the organization known as Black Lives Matter, it's operatives and its mentors...because this anti-Israel hate group is destroying us right now, literally burning American cities down.
Patrisse Cullors proudly admits having learned community organizing at the Labor Community Strategy Center in Los Angeles where she studied Marx, Lenin, and Mao. Her mentor was Eric Mann, a veteran of the Weather Underground, a self-described communist revolutionary group that sought to overthrow the American government.
Formed in 1969 by Bill Ayers, the man who would eventually kick start Barack Obama's political career, the Weather Underground set America aflame with a series of riots, bank robberies, attacks on cops and even open murder during the 1970s and early 1980s.
Mann served 18 months in prison for conspiracy to commit murder — the attempted murder of policemen within the local precinct to be exact — and has spent much of his life as a "revolutionary organizer" committed to "Marxist Leninist party building." And a leader of BLM claims him as her political mentor.
America's cities are on fire at the hands of self-proclaimed Marxists. Select here to Tell Congress and the DOJ to INVESTIGATE BLM.
But there's more...
It turns out yet another convicted Weather Underground terrorist is tied to BLM...and this one handles the millions of dollars pouring into the Marxist organization.
The BLM's donation site shows that up until July 2, 2020, BLM donations were collected by the Democrat fundraising arm, "Act Blue." Act Blue then transferred the money to a group known as "Thousand Currents," which then — according to its own website — transferred the money to BLM.
And on Thousand Current's board sits yet another Weather Underground convict, Susan Rosenberg.
Ms. Rosenberg was implicated in the 1979 prison escape of Assata Shakur, the 1981 Brink's robbery that resulted in the deaths of two police and a guard, 1983 bombing of the U.S. Capitol building, the U.S. National War College, and the New York Patrolmen's Benevolent Association. After 2 years on the run, Rosenberg was apprehended with a large cache of firearms and explosives. She was eventually sentenced to 58 years in prison.
President Bill Clinton let Rosenberg out of prison 42 years early, commuting her sentence with only 16 years served. Clinton performed this action on his very last day in office in 2001.
The former convicted felons and leaders of the Weather Underground have done fairly well for themselves, considering the trail of blood and destruction left in their wake. Riots, bombings, attacks on police officers and Marxist demands were the terroristic actions of the Weather Underground.
And if the present 90 days of riots, attacks on police officers, the burning of entire cities and the murder of a member of a Portland prayer group are any indication, "Marxist Trained" Patrisse Cullors and Alicia Garza have apparently learned Eric Mann and the Weather Underground's lessons all too well.
Forty some years after the Weather Underground tried to force America into a Marxist revolution, it's members still seek violent insurrection and civil war — the same riots, the same destruction, the same attacks on cops, and the same thought leaders, just now operating behind the curtains of the disingenuous name of BLM.
It's time for Congress and the Department of Justice to investigate BLM for what they really are — a domestic terror organization that intends to destroy America. Please, fax Congress and the DOJ today. Select here or the button below.

In Christ,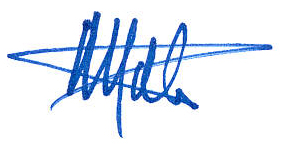 Mat Staver
Chairman
Christians in Defense of Israel
P.S. Prefer to sign a petition instead of sending a fax? Select here.

P.P.S. With your help, Christians in Defense of Israel fights back against attempts to demonize the Jewish state. But we can't do it without you. Will you make a generous and much-needed donation today?