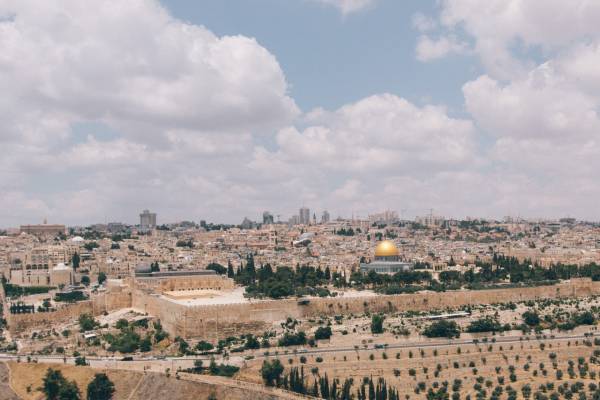 Jerusalem Day and the Reunification of Israel
This week, all of Israel and Jews around the world will celebrate "Jerusalem Day" in commemoration of the reunification of the Holy City after the 6-day Arab-Israeli War of 1967. But Israeli unification is still an ongoing process.
Ask President Trump to STAND FIRM on Israeli Sovereignty - select here or the button below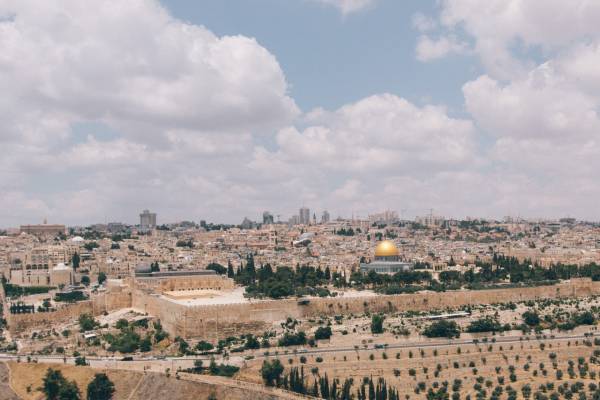 On May 15, 1948, just one day after Israel declared Independence, neighboring Arab nations seized Jerusalem – ignoring the United Nations and Israel's decision to have the capitol be an "international city" populated by and celebrating both Israelis and Arabs.
Arabs forced Jews out of the capitol and set to work razing at least 50% of the city's synagogues and demolishing Jewish graveyards in the process. Adding insult to injury, Jewish tombstones were ripped out of the Mount of Olives cemetery and used as paving stones -- with every step, Arabs in Jerusalem were treading upon Israel's dead.
Sign the Petition today - ask President Trump to STAND FIRM on Israelis Sovereignty - select here or the button below

19 years later, the Israelis still sought peace in the Holy City, even as the Arab world once again attacked God's chosen people for the mere act of existing. Even before activating their defenses against the Arab onslaught, Israel informed Jerusalem's Arab occupier, Jordan, that they would not attack the occupied city so long as the occupiers remained neutral in the attacks led by other Arab countries.
As has happened throughout history, the Arabs in Jerusalem and the "West Bank" rejected peace and went to war against the Jewish nation. But God was gracious to His people and six days later Israel prevailed against her attackers and reunited Jerusalem.
This week, Israel celebrates 53 years of a united Jerusalem. But that commemoration also brings to mind an age-old problem that still exists to this day… the Arab nations surrounding Israel never have -- and apparently never will -- accept a "two state solution." Which brings us to the annexation of the Jordan Valley and what is commonly called the "West Bank."
Defend Israel - Sign the Israeli Sovereignty petition today!

The Arabs have never stopped attacking Israel even though the Bible and nearly all non-biblical historical records clearly show that Israel is the historical home of the Jewish people.
The Arabs didn't stop attacking when the League of Nations and later the United Nations formally recognized the Israeli homeland in WWI and WWII, respectively. Arab nations continued their military attacks trying to throw the Jewish people out of their own land in 1967.
And now, through a combination of Hamas-led terror attacks and a decidedly anti-Semitic new crop of United Nations history deniers, Israel is under attack once again for formally annexing what history and international law have long declared is already theirs – the Jordan Valley including the ancient lands of Judea and Samaria.
President Donald Trump has done much for Israel, including recognizing Jerusalem as the Israeli capital – an international feat in and of itself. But Israel needs President Trump's support now, more than ever, as it moves forward with the planned official annexation of a part of the Jewish people's historical homeland.
Our full-time staff in Washington, DC, will be meeting with White House officials soon to discuss our petition which asks President Trump to STAND FIRM in his support of Israel and the annexation of the Jordan Valley. I hope your name will be on that list!
Ask President Trump to STAND FIRM on Israeli Sovereignty - select here or the button below

"Ke'ir shechubra lah yachday" — "Built-up Jerusalem is like a city that was joined together." Psalm 122:3
In Christ,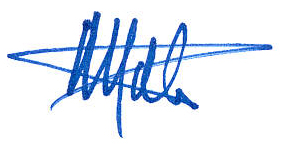 Mat Staver
Chairman

P.S. Very few policy organizations have a full-time presence in Washington, DC, and regularly visits the Holy Land as CIDI does. Our Covenant Journey program takes American students to the Holy Land in preparation for pro-Israel leadership around the world. And many of those Covenant Journey graduates are now serving in key positions within various levels of American government. Others have chosen to live in Israel and are impacting multi-national corporations that value the experience of young, pro-Israel leaders.
Your generous donations make it possible for Christians in Defense of Israel to perform all of these vital services and make a difference both here and abroad for God's chosen people. Select here to give generously today!