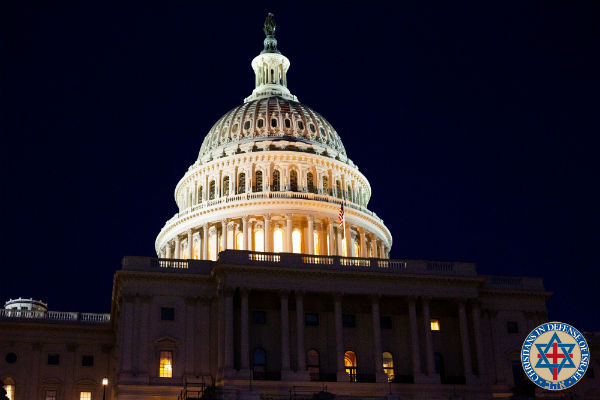 Impeachment Farce Hits New Low
You and I witnessed firsthand today just how grim and determined Democrats are in their bid to remove President Donald Trump from office.

It doesn't matter that 63 million Americans elected him to office. Instead, pure political hatred is the engine driving the impeachment push—just as the discredited Russia hoax did before it.

The same thing is happening in Israel where the Israeli establishment is pushing a political prosecution of Prime Minister Benjamin Netanyahu.

Because of this "witch hunt," Bibi is fighting for his political life . . . and could actually wind up in jail.

That is why I'm asking you to join me now in sending your support to both leaders who have done so much for Israel.

Join me in telling both Donald Trump and Benjamin Netanyahu that you're standing with them and praying for them!

And if you've already signed our messages of support, Thank You! Your gift of support now will make a huge difference to help us fight for Israel.

See my message below about today's absurd impeachment vote in the U.S. House of Representatives. –Mat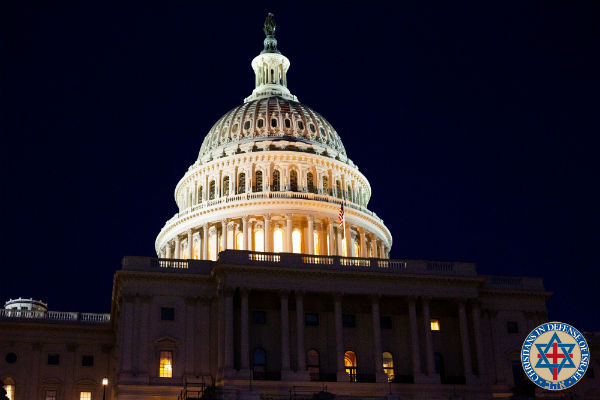 The Democrats' three-year campaign to drive President Donald Trump from office hit a new low today. In a party-line vote, the House approved 232-196 an impeachment resolution which establishes unfair rules for the "show trial" of President Trump taking place in the House.
And to illustrate just how farcical this entire process is, we're learning today that the so-called "whistleblower" may well be a 33-year-old CIA analyst, a registered Democrat who worked in the past with former Vice President Joe Biden and former CIA director John Brennan.
It's being reported that Eric Ciaramella sparked the current sham impeachment thrust by giving his second-hand account of a phone call President Trump had with Ukraine's president to House Intelligence Committee chairman Adam Schiff.
If reports about Ciaramella are true, it's just more evidence to show the empty and politicized nature of the accusations against President Trump.
+ + Politicized prosecution in Israel, too...
And much the same is taking place in Israel where Prime Minister Benjamin Netanyahu is fighting a "trumped-up" corruption probe for which he may be indicted next month.
Israeli prosecutors charge Netanyahu accepted gifts of champagne and cigars for alleged influence. And that he bartered for positive press coverage by promising to support legislation in the Knesset.
That may sound bad, but Israeli law doesn't prescribe a limit on how many gifts are too many, states former Harvard law professor Alan Dershowitz. The charges relating to media coverage, he asserts, "seek to criminalize normal political behavior."
Israeli commentator Caroline Glick dismisses the charges as the work of "unelected state prosecutors who wish to oust [Netanyahu] from power by indicting him."
Like Trump, Netanyahu is fiercely disliked by the nation's entrenched ruling class. Glick contends that . . .
The Israeli establishment has long sought to destroy Netanyahu, the only political leader in Israeli history who was never a member of their club and never sought their approval. They haven't been able to defeat him at the ballot box and now they have placed their hopes in the politicized state prosecution.
+ + Let Trump, Netanyahu know you support them—and pray for them
Both President Trump and Prime Minister Netanyahu are fighting political attacks intended to oust or incarcerate them.
That's why I'm asking you to join me in sending your support and encouragement now to these two transformational leaders. You can do that right now—just click below...

The truth is that Israeli and American radicals utterly revile Netanyahu and Trump. They're desperate to throw them both out of office . . . and into jail.
All this venom is because Netanyahu and Trump have committed what, to radicals, are "unforgiveable sins" . . .
Netanyahu transformed Israel's once-socialist economy into a vibrant, hi-tech powerhouse of growth and innovation. He has built the Jewish state into a regional military power and refuses to swap Jewish land for vain promises of Palestinian peace.
Trump is undoing the Obama presidency, slashing regulations, cutting taxes and renewing America's military might. Best of all, he's the most pro-Israel president in U.S. history.
For these reasons and more, secularists are furious and wants revenge.
That's why I urge you to stand with and pray for both President Trump and Prime Minister Netanyahu.
+ + Bibi's 70th birthday . . . and the Bible
Just last week, Bibi celebrated his 70th birthday. President Trump sent the Prime Minister a letter expressing birthday wishes on which the president, in big bold letters, declared, "You are great!"
IsraelHayom, a right-leaning newspaper in Israel, reported on a gathering of friends and family to celebrate the PM's birthday:
At the event on Thursday, held near the cabinet room at the Prime Minister's Office, Netanyahu said that his goal has always been to reform Israel's economy and make the country stronger.

He added that Jewish scripture, which he reads with his family members on a regular basis, helps him get by . . . .
Let me urge you to stand with this great leader of Israel and with Donald Trump, a transformational president returning our own nation to greatness.
Tell both men you're standing with them and have them in your prayers!
To do that now, just click below—and please do so right away. We'll be sending this expression of support, with the names of signers, to Washington and Jerusalem in just days.

And as you do, I ask you to stand with Christians in Defense of Israel, too. We especially need your support to fight for Israel and to educate and mobilize Christians to support the Jewish state.
Please be as generous as you can!
Thank you for your kind support, your friendship, and your support for Israel!
Together for Israel,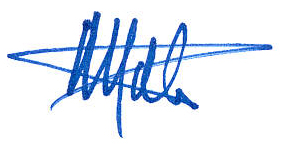 Mat Staver
Chairman