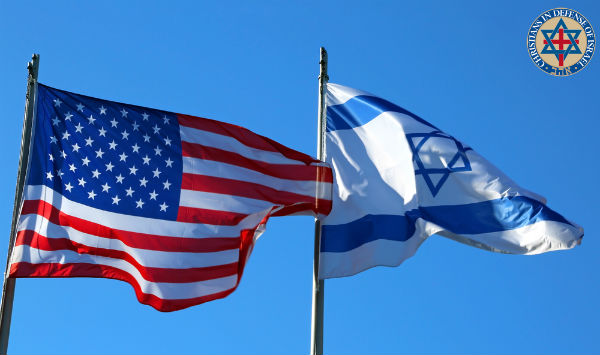 Furious Leftists Target Trump and Bibi
The drumbeat for impeachment is growing louder on Capitol Hill as Democrats continue their closed-door (but selectively leaked) hearing into President Donald Trump's alleged "quid pro quo" with Ukraine.

He calls it a "witch hunt" and just the latest chapter in Democrats' relentless effort to undo the 2016 election—and disenfranchise some 60 million Americans who voted for the president.

He's exactly right.

And 6,000 miles away in Jerusalem, Benjamin Netanyahu is facing the same targeted attack—an attempt to topple him in a politicized corruption probe that could lead to indictments next month.

The stakes for Israel are high.

Trump is the most pro-Israel president in U.S. history. Netanyahu has taken Israel from being a socialist backwater to being envied as a high-tech economic powerhouse. And his diplomatic brilliance, backed by Israeli military power, is keeping Israel safe in the world's most dangerous neighborhood.

But if the Left sweeps either Trump or Netanyahu (or both) off the political stage, it will mean huge loss—possibly serious harm—to the Jewish state.

That's why, as the attacks on both leaders intensify, I'm asking you to join me in telling them you're standing with them. You can do that right now by signing our "I'm Standing with You" declarations of support to Prime Minister Netanyahu and President Trump.

The stakes are high. You and I need to let both leaders know we have their back—and are praying for them. Please sign now!

See my message below about the targeted attacks in Jerusalem and Washington. —Mat.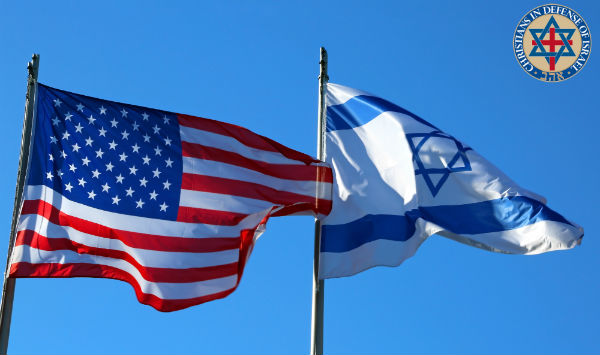 In a matter of weeks, Israeli Prime Minister Benjamin Netanyahu may be under indictment.
Here at home, Trump-hating House Democrats have sent their runaway "impeachment train" hurtling down the tracks. And the Senate is bracing for an impeachment trial by year's end.
What's happening? It's simple . . .
Israeli and American leftists utterly revile Netanyahu and Trump. They're desperate to throw them both out of office . . . and into jail. So much so that Rep. Rashida Tlaib has already openly talked about arresting White House officials!
All this venom is because Netanyahu and Trump have committed what, to the Left, are "unforgiveable sins" . . .
Netanyahu transformed Israel's once-socialist economy into a vibrant, hi-tech powerhouse of growth and innovation. He has built the Jewish state into a regional military power and refuses to swap Jewish land for vain promises of Palestinian peace.
Trump is undoing the Obama presidency, slashing regulations, cutting taxes and renewing America's military might. Best of all, he's the most pro-Israel president in U.S. history.
For these reasons and more, the Left is furious and wants revenge.
That's why Prime Minister Netanyahu is fighting politically motivated corruption charges. The accusations against him hit two months before Israelis voted for their national leaders in April of this year.
And President Trump faces yet another bogus attack. No sooner had the Russia collusion delusion been dismissed than the Democrat "impeachment train" blew its whistle.
Make no mistake, these coordinated efforts have one purpose; to inject chaos into both countries because they both represent freedom and Judeo-Christian values—which is exactly what the Left hates.
Both Netanyahu and Trump blast the unfounded attacks as "witch hunts."
The assault on Netanyahu is the latest and most severe in a string of politically motivated charges that go back to his first term as prime minister in the 1990s.
Political disagreements are being criminalized, insists Israeli commentator Caroline Glick:
The Israeli establishment has long sought to destroy Netanyahu, the only political leader in Israeli history who was never a member of their club and never sought their approval. They haven't been able to defeat him at the ballot box and now they have placed their hopes in the politicized state prosecution.
Just when his leadership is needed most, Netanyahu could be booted off the political stage . . . maybe sent to prison.
That would be a huge loss for Israel—and come at the worst possible time.
The mullahs in Iran are growing bolder. The world's leading state sponsor of terror is arming its proxies in Lebanon, Syria, Yemen, Iraq and Gaza—all to encircle Israel, strangle the Jewish state and wipe it off the map.
Netanyahu is a brilliant statesman and fierce advocate of military strength who is leading Israel out of its socialist past into prosperity. Trump is America's most pro-Israel president ever. Both face political enemies determined to take them down.
That's why I'm asking you to join me in telling both leaders they have your support. You can do that right now by signing our "I'm Standing with You" declarations of support to Prime Minister Netanyahu and President Trump.

I will send your signature, along with those of many others, to Jerusalem and Washington to let both men know they have our support and prayers.
And as you send in your signed declaration of support, I ask you to stand with Christians in Defense of Israel now, too.
Your support is vital to sustain and grow this pro-Israel outreach. Your urgently needed gift will help CIDI mobilize support for Israel across America and fight for the Jewish state on Capitol Hill.

Please stand with Trump and "Bibi" now . . . while also standing with CIDI to help us bless and defend Israel.
Together for Israel,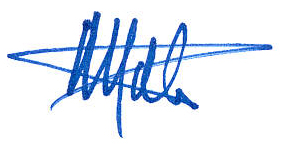 Mat Staver
Chairman
Christians in Defense of Israel