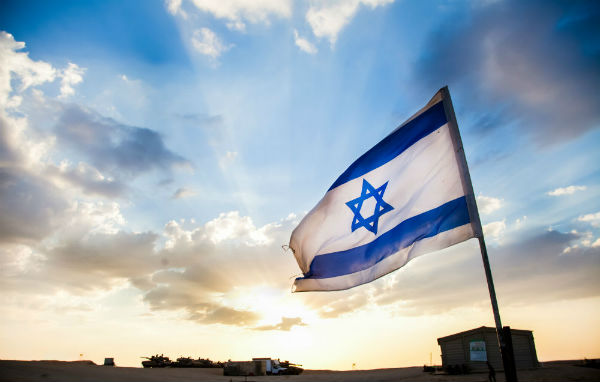 A Day to Hate Israel
What I'm about to share took place not in Tehran but in the U.S. It shows why you and I must stand strong for Israel now and in the future.
But to do that, I'm asking for your generous help. Please consider supporting Christians in Defense of Israel today. And read below to see why your help is so needed. Thank you! —Mat.
"Quds Day" is a special day for haters of Israel to vent their rage at the Jewish state. It's a day to protest Israel's existence and to call for retaking "Palestine"—and that includes Jerusalem (known as al-Quds in Arabic).
In Tehran, soldiers marched over a huge Israeli flag in the streets on Quds Day, May 31. Other Iranians torched effigies of President Donald Trump. Quds Day protests like that have taken place in Iran since 1979 when the Iranian revolution brought Ayatollah Khomeini and radical Islam to power.
These outrageous festivals of hate are expected from Tehran. What's not, however, are similar outbursts of anti-Israel vitriol in America. But it did, just a few weeks ago.
In Dearborn, Michigan, a speaker at a Quds Day event railed at the "cancer" named Israel and called the U.S. government "Satanic." His solution to the Israeli/Palestinian conflict is "returning every inch, every centimeter, every pebble of Palestine back to the people of Palestine."
But that "return" won't happen through legislation or international deals, he insisted. Violence—what he called "resistance"—is the one path forward. Standing on a plaza outside the Henry Ford Centennial Library, he declared, "There is only one solution, intifada, revolution."

+ + "We don't want no Jewish state!"
Meanwhile, Quds Day protesters in New York's Times Square chanted that same slogan and others. All bristled with hostility toward Israel. One chant declared: "We don't want no Jewish state. We want '48. We want all of it."
And just to eliminate any doubt, a pro-Palestinian firebrand announced: "Every inch, from the river to the sea is Palestine. Israel does not exist."
It's easy to smile and dismiss all this. But we shouldn't. And here's why. People who hold these views are gaining power inside the Democrat Party. Democrats now control the U.S. House of Representatives and could take the presidency next year.
Socialist Bernie Sanders is Jewish but no friend of Israel. He calls Israel's government "racist." And popular House freshman Alexandria Ocasio-Cortez has condemned Israel for its "occupation of Palestine." The Democrat Party chairman calls her the "future of our party."

+ + Profound shift inside Democrat Party
Ocasio-Cortez belongs to the Democratic Socialists of America—a rising anti-Israel force within the Democratic party. In 2017, DSA convention delegates passed by 90 percent a resolution supporting the anti-Israel Boycott, Divestment, Sanctions campaign.
When it passed, delegates erupted in celebration, waving a Palestinian flag and chanting "From the river to the sea, Palestine will be free."
When you get right down to it, that's a call for the elimination of the Jewish state. Which means that Democrats—the kind Ocasio-Cortez connects with—were calling for Israel's destruction. And she's the Democrat Party's future, we're told.
A profound shift is taking place inside the Democrat Party. Love for Israel is growing cold. And it's happening fast.
Despite the amazing pro-Israel progress ushered in by President Trump in just the last two years, the Democrat Party—which could take the White House next year—is growing openly hostile to Israel.
We could be in for a return to the chilly relations that characterized the U.S.-Israel bond under Obama. And that means difficult days may be ahead for Israel.

+ + Time to Act for Israel
That's why you and I must mobilize for action. And why the work of Christians in Defense of Israel is so important. Now is the time to shore up and expand everything we do to build the U.S.-Israel bond. We can't wait until things worsen.
Join with us and like-minded people to strengthen our vital work to bless and defend Israel.
With your help, we will fight for Israel on Capitol Hill. And we'll raise up more ambassadors for Israel through our powerful on-line campaigns and through Covenant Journey, the vital outreach which gives young Christian leaders a life-shaping experience in Israel.
Thank you for standing with Israel—and with CIDI as we fight for Israel on Capitol Hill and across America!
Sincerely,

Mat Staver
Chairman


P.S. Please make a generous gift to help us stand for Israel. Our pro-Israel voice is needed now more than ever—and your support is vital. Thank you!