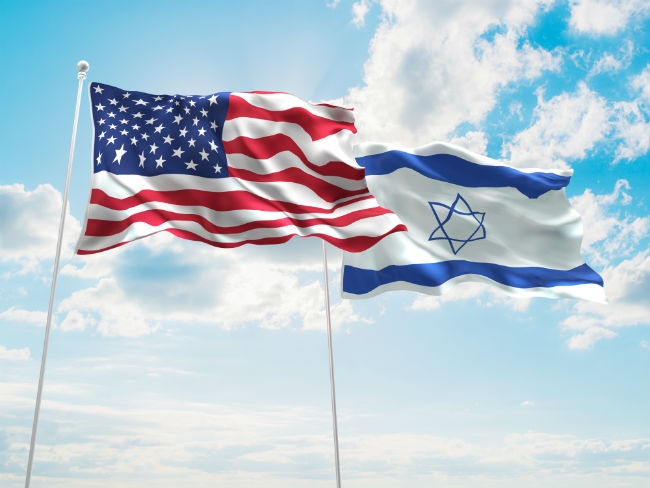 Netanyahu Fights Back
Prime Minister Benjamin Netanyahu delivered a forceful defense of his conduct as Prime Minister Thursday night from Jerusalem.

His emotional, televised speech, in Hebrew, came just hours after the nation's attorney general issued his stunning notice of indictment against the Prime Minister on bribery, fraud and breach of trust charges.

The criminal allegations hit just over five weeks before Israeli voters head to the polls April 9 in a pivotal election that could unseat Netanyahu and bring a more left-leaning government to power.





+ + + Tell Netanyahu You're Standing with Him!

And that, if it happens, will have major implications for Israel's security. Which is why I'm inviting you to pray--and to let Prime Minister Netanyahu know you're standing with him.
To sign our note of support to the Prime Minister, please CLICK HERE NOW!
Netanyahu told Israelis his leadership--working with "very talented" Likud Party members--"brought Israel to its best decade yet in security, in foreign relations, in economics, in every area. We have turned Israel into a rising world power."

Because of those achievements, Netanyahu said, the Israeli left knows it can't beat him at the polls. "So they made a political witch hunt for the past three years, an unprecedented witch hunt with a single goal - to topple the right-wing government...."

Netanyahu blasted the timing of the charges as "scandalous" and aimed at pushing him and his party from power. "That is the goal. To inundate the public with ridiculous and evil claims against me, with me not having the ability to refute the charges against me now, rather only after the election."


+ + + Netanyahu: Will "Disprove... Every Claim"

But Netanyahu promised to "refute them all, from the first to the last."

And Netanyahu charged the investigation against him did not look at all the evidence. "There were dozens of witnesses," he said, "who were not questioned who could have proven my innocence."

"I'm the first person in history," he said, "to be accused of bribery for trying to get positive coverage from the press."

But "have no doubt," Netanyahu promised, "I'm going to disprove each and every claim against me." He said: "We have records of all my actions and all my decisions. All were done properly."


+ + + Parallels with Trump

You and I both know, from what we've witnessed here in America over the last two years, that the left will manufacture allegations in order to oust a political opponent they can't beat at the ballot box.

That's the real story behind the "Russia collusion" investigations which has turned up no evidence after two years and millions spent in the Mueller investigation.

And it's the real dynamic behind the assault on Prime Minister Netanyahu.
Which is why I ask you to join me in signing a note of support to both Prime Minister Netanyahu and President Trump.
Please do so right away because I want to send this note of encouragement, with your name and many more, to the Prime Minister well before Israel's elections on April 9.

If you can, please consider a gift to Christians in Defense of Israel. Our work on Israel's behalf is wholly dependent on the financial partnership of good friends like you.

And if you've already signed the "I'm Standing with Bibi" note of support, please tell a friend!
To invite a friend to sign the note of support, too, just CLICK HERE NOW.
Thanks so much for your friendship and support. It's wonderful to have friends of Israel like you standing together with me as we work to bless and defend the Jewish state of Israel.

Pray with Prime Minister Netanyahu and the entire nation of Israel at this time of turbulence and upheaval!

May God bless you,

Mat Staver
Chairman

P.S. Please sign the note of support right away! Your generous and much-needed support will be greatly appreciated, as well, to help us in all our work on Capitol Hill and across America. Please stand with us as we fight for Israel and the Jewish people! To give, please CLICK HERE NOW!