Your Gift Now Helps Fight Anti-Israel Lies That Fuel Hate!
Four reasons your support now is critical:
With your urgent donation today, we can fight the ugly lies that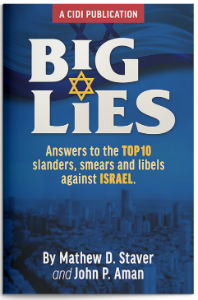 fuel anti-Semitism and hatred for Israel. Plus, when you give, you help rally more Americans to stand with the Jewish state, you advance pro-Israel legislation on Capitol Hill, and you help produce gifted, energetic and spiritually alive young men and women through Covenant Journey, our life-transforming tours to Israel.
And in thanks for your gift, we will be excited to send you our publication, Big Lies: Answers to the top 10 slanders, smears and libels against Israel. You'll get answers to ten vicious and outlandish charges lodged against Israel—lies used to stir the flames of anti-Semitic hate which are promoted by Palestinian leaders, the UN, the media and academia.
And because we want you to enjoy and benefit from this unique resource right away, we'll provide you with the E-book version (Kindle or Epub) via email immediately when you give now!
This helpful resource gives you the truth about Israel and the tools you need to answer false and inflammatory accusations against Israel. It's a powerful resource and our way of saying "Thank You!" for you generosity to help fight for Israel.
Donate today to defend the Jewish people and stand with Israel!